Large Cork Roll - 1 Metre x 8 Metre - 8mm Thick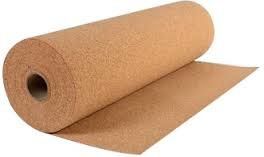 Large Cork Roll - 1 Metre x 8 Metre - 8mm Thick
Large Cork Roll suitable for Interior Walls  
1 metre x 8 metre
Thickness: 8mm 
Natural cork for Interior Walls
- 6 mm Thick and above recommended for Pin Board use
- Cork is a 100% natural
- Resistant to moisture and water
- It does not attract dust and dirt
- It is Lightweight
- It is resilient and flexible
- Anti-Static
- Very good thermal and acoustic insulator
- Completely harmless
- Sound insulation: 2mm-17dB, 3mm-18dB, 4mm-19dB, 6mm-20dB, 8mm-22dB, 10mm-24dB
Did you know that by choosing our products you are helping the environment? 
Natural cork is produced with care for low energy usages, it has practically non-existent emissions and has minimum environmental impact. Choosing 100% natural cork products, you are contributing to the development of responsible, innovative and sustainable solutions, helping protect our environment.


Data sheets available on request.