Non Adhesive Cork Sheet - 300mm x 300mm - 1mm Thick - 6 Pack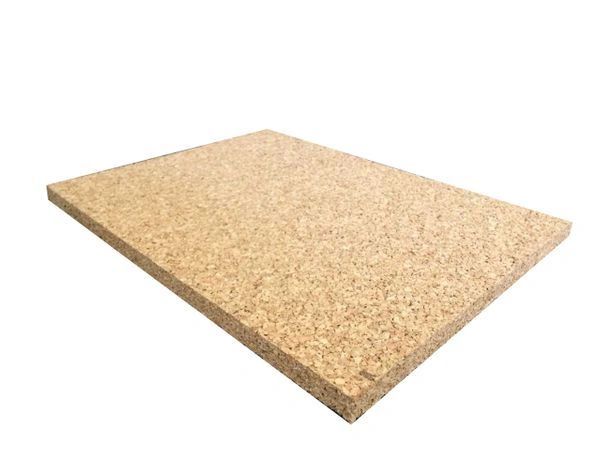 Non Adhesive Cork Sheet - 300mm x 300mm - 1mm Thick - 6 Pack
 Medium Grain Cork Sheet
6 Sheets per pack
Each sheet measurement:
Length: 300mm
Width: 300mm
Thickness: 1mm
Great for wall coverings, pin boards and printing on.
If you are using this product as a pin board we would recommend using at least a 6mm thickness.
How to fix medium grained cork sheets and what tools to use? 

Cork sheets are a fine material that can be fixed in a variety of ways. The cheapest and the easiest method to fix them is by gluing them with cork glue. We recommend Wakol D-3540 that can be found in our 'Cork Adhesive section. Our advice is to use around 120 grams of glue per sheet, which means that 0.8kg of glue is enough for 6 sheets, and a tub of 2.5kg - 20 sheets. Of course using cork glue is not obligatory. It is best to choose a product with good initial tack, as it will make the job easier and faster, especially for the less experienced. 
As well as offering non-adhesive cork sheets, we also supply self-adhesive cork sheets. You may prefer to use these if you are not a traditional glue enthusiast. Fixture of the self-adhesive cork tiles is fast, clean and simple. After taking off the protective foil just glue the panel on your prepared, selected surface.
Needing some finishing? 

Cork tiles can be left alone without any finish. However, they can also be painted over with any paint, lacquer or wood stain to enhance or cover up the cork's structure. If the cork tiles will be exposed to dirt and will be washed frequently, it is worth finishing it with a protective product. The cheapest and least labour intensive finish is to leave the cork tiles unfinished! The original structure will bring a new and natural dimension to the interior and furthermore, such a cork wall can be a perfect cork pin board.
Our cork wall panels have a variety of applications limited only by imagination and creativity. We offer a wide range of cork products to meet different requirements. Please get in touch if you would like any more information at all.
Did you know that by choosing our products you are helping the environment? 
Natural cork is produced with care for low energy usages, it has practically non-existent emissions and has minimum environmental impact. Choosing 100% natural cork products, you are contributing to the development of responsible, innovative and sustainable solutions, helping protect our environment.